Today, we bring you the fourth installment of our Stories of Hope series! This project aims to cast a meaningful spotlight on the authentic stories and individuals who are part of the immigration narrative in the US. This month, we are excited to introduce you to Jean Carlos from Venezuela.
Life in Venezuela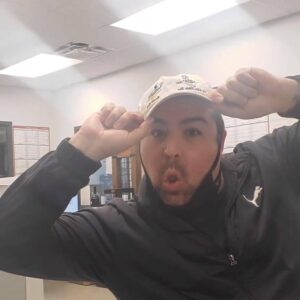 Jean Carlos grew up in the South American country of Venezuela. Right around the equator, life was "surrounded by a lot of beaches and the tropical weather — it was like living in the summer all year long." There, they don't have four seasons, they just have summer and some rainy days. The people, Jean Carlos describes, are "very welcoming. We were very friendly."
Growing up, Jean Carlos had "a big family. I have a lot of cousins, a lot of aunts, uncle — we're all very, very, very, very close." 
But life in Venezuela was not just beautiful weather and beaches. As a child, Jean Carlos' family had a traumatic experience with his father, which was a very hard time for him and his family. Thankfully, his father ended up back safely with his family. However, the experience opened their eyes to the realities around them, that the country was no longer safe. That's when his father came to Jean Carlos and said "Look, this country is not very safe. Even though it is our home, it's not very safe right now. So I really want you to leave and maybe eventually you can take your sister with you and we to go with you in the future." 
Because Jean Carlos was the oldest of his siblings, he was the one to go first. That's when Jean Carlos began his research of finding a new place to go. Eventually, he decided to go to the United States. He was drawn to the US "because since I was a child, I remember my parents always bringing me here, the United States on vacation. We would go to Disney, or Miami, or New York. My parents love the United States and I always wanted to live here." But even though it had always been a dream of his, it did not make it any harder leaving his life and family behind. "When I made the decision that to move to United States was the best, [it felt like] breaking down of the family, but [it was], for me and our family to be able to take the next step." So, accepting his role as the eldest, he made the step to leave Venezuela and his family behind for a better life in the US.
Coming to the United States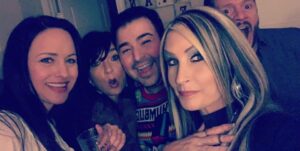 Leading up to his flight, Jean Carlos describes feeling very anxious, "the two months before I was planning to come here because, I'll never forget it, September 18th, 2010, that was the day that I came here." The emotions were big and jumbled; "day by day I was getting scared, nervous, happy at the same time. It's hard to explain because I knew that I was changing my life completely — to a different culture, to a different country, different people, different languages. It's just completely different."
Preparing for his move, he didn't have much time to prepare, nor a lot of room to bring his belongings. "I remember talking to my mom. I was freaking out, obviously, to move here by myself, leave my family behind. And she gave me a suitcase and she was like 'That's all you can take. Figure out what you want, what you need right now to bring with you, and maybe later on I can start bringing you stuff.'" So, with the one suitcase, he began choosing what belongings he would want and need for his new life in the US. "I was like, 'Okay, let me take my favorite clothes — my favorite shorts, pants, t-shirts." Jean Carlos is also a big DVD collector, so it was difficult to choose what to leave behind. "I have like a special edition of DVDs and box sets of TV shows. They're very expensive. For me, that was a very hard thing to leave behind." However, he was determined to not have to leave all of it behind. "I was like 'I need to find a way to bring them with me.' I bubble-wrapped them and put them in my suitcase. But there's a lot of stuff that they're still there." Funnily enough, his parents still have their apartment back in Venezuela, and "my room is still the same." But, with so much time passed, "there's a lot of items that I left in my room that now I don't even remember what they are."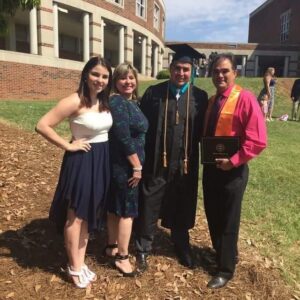 At the time of his decision, Jean Carlos was studying engineering at university. Planning for his move to the US, he knew he wanted to continue his studies, as well as be around friends. He decided to come to Atlanta, where some friends from Venezuela have been living for years. It gave him the opportunity to settle in with familiar faces that could show him the ropes. He says "I didn't wanna be completely alone. I didn't know what to do. I wanted to have a little help from someone to rely on. So I called my friends and she was like, 'Yeah, come here and I will give you a tour.'" 
So, he made the journey to Atlanta. His parents and sister joined him on the trip, putting him at ease. "I wasn't feeling different yet." He slowly started adjusting, opening a bank account, getting a driver's license, "all the small steps." However, that changed a month later. Once his parents left, he was alone, having to figure things out on his own, or he needed to rely on his friends in Atlanta. But, "even though I have my friend here, she has her life here. She was working."
Being on his own was a hard adjustment. With limited English skills, Jean Carlos wasn't motivated to go out among people. "I wasn't going out a lot because I didn't know where to go. I didn't know kind of what to do. I was going to like small places like Starbucks. It was a small step,  but actually, I went to go out to socialize."
The friend he was staying with was a student at Mercer University, which she gave him a tour of. Afterward, he felt that the campus and the people would be good for him, so he met with an advisor. That's when he started feeling better, "that first month was kind of scary and lonely. But then the school started, it started to feel a little better day by day because the students that were studying English, of course, were in the same situation as me. They were all international students." Because his English wasn't good, "I wasn't able to speak English," he started taking English as a Second Language classes. Being around others in similar situations to his helped improve his loneliness and he became more comfortable with his new life. He started going out more and socializing, "I was able to join a gym that was close to my house. So I met people there. I made more friends, so I was able to go out more," all while improving his English. A year later, he enrolled to obtain his degree in computer science.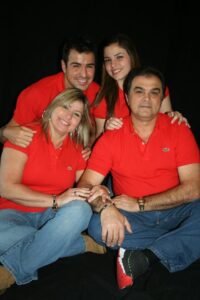 Then, all alone, Jean Carlos left his family behind in Venezuela. Now, over fourteen years later, his family has scattered all over the globe. Five years after his arrival, his sister joined him in Atlanta after finishing high school. She went on to go to and graduate from college, after which their parents joined them in the US. His parents and sister now have settled into life in Florida, much closer now than the long distance from Atlanta to Venezuela. Others? They've immigrated from Venezuela to places like "Spain, Panama, England, and Australia. All over the place."
Calling America Home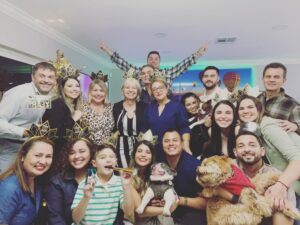 It took about a year to a year and a half before Jean Carlos started to feel at home in Atlanta. "I don't remember for sure, but I do that it was when I finished English." Since his English had improved, he started to feel more at home. Starting the real American college experience, "that's when I started feeling more 'this is what I'm here, this is my home.'" Starting a job on campus allowed him to settle in further, making money for himself. He worked in the pharmacy department in the Dean's office, surrounded by doctors talking in scientific jargon. Even so, it was a wonderful experience; "the job brings some more security and more confidence in myself because it was an area that I never worked before." Creating a routine for himself, and surrounding himself with people he cherished helped him feel at peace, at home. "It helped me a lot to feel safe, to feel that this is my place, and now I feel that alone."
What about Venezuela? Jean Carlos hasn't been back to Venezuela since he left those many years ago. He takes a moment to reflect when asked if he wants to go back or still considers it home. He says that it's an odd feeling, having let go of that past. In essence, there isn't too much to go back to, he says; "I have no family members there anymore. They all left." Of course, he could go back to visit, like a vacation, but even then, "I'd rather go someone else. I guess it's a little selfish." But it was hard leaving and adjusting to a new life. It was like an open wound at first, but now, "I was able to give myself a closure with myself. I found my peace for myself that when I left; one part of me knew that I wasn't coming back."
Becoming an American Citizen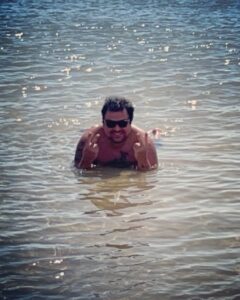 Jean Carlos first came to the US on a student visa. After completing his Bachelor's degree, he had the option to do Optional Practical Training through the visa. This allowed him to work after graduation in an area related to his major. He continued to renew it for two years so he could remain in the US. During that time, he fell in love.
Since he first arrived in the US, gay marriage has become legalized, allowing him to marry his college sweetheart. Jean Carlos only thought about his next immigration options once his now-husband brought up the option to sponsor his Green Card. That's when the research began. Finding a good lawyer allowed him to go through the process stress-free. With all the paperwork, he knew it could be overwhelming, but having someone to guide him step-by-step made this next point in his immigration journey more exciting than daunting.
Although an intimidating process, the interview went well and his Green Card was conditionally approved for two years. He returned to Hope Immigration to help with the removal of conditions, which all went smoothly. By the time of the approval, it was already time to become "a citizen, an American citizen." The time flew by, he says. It was like it was only yesterday that he embarked on his journey to the US. "We were shocked. The time went so fast. I said, wow, already talking about this."
So far, everything has run smoothly. But, when it was time for his naturalization interview, it went a bit off the rails. "The day of my interview, of my test was the day the immigration shut down because of the pandemic." Everything went into chaos. "I was so pissed. Immigration had closed and my interview was moved to the end of the year." Suddenly, from hopefully becoming a citizen in March of 2020, he had to wait until November.
Once he finally had his interview, it was another challenge. With the restrictions of glass barriers, masks, and social distancing, it was hard for Jean Carlos to understand the officer with his impaired hearing. With understanding and speaking English being one of the criteria for citizenship, it created a panic, hoping the officer would not think he was ineligible. However, it all ended well. In January 2021, Jean Carlos became a proud new US citizen.
"It took me almost 10 years. I came here in 2010 and at the end of 2020, it happened — 10 years. To become a citizen. All the whole process. It takes long. Wow. Oh my God."
Evolving Identities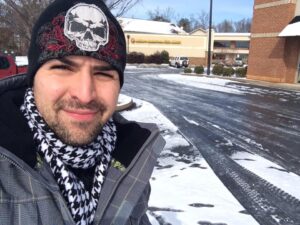 When asked how his identity has changed since coming to the US, Jean Carlos describes it as a struggle. "I feel there's two parts of me. One is John, which is how I call myself here. And the other is Jean Carlos — that's what people call me in Venezuela. Jean Carlos is the one who speaks Spanish, but only with his family. And John is the one here right now, the one to talk to his friend at work, and I still can't put them together. I don't have Hispanic friends or Spanish-speaking friends. It just happened, and all my friends that I met in college were American."
It's difficult to be between these two identities, these two different people. Now, he is mainly surrounded by English speakers, not having many people from the Hispanic community in his circles. Really, he only speaks Spanish with his family now. But, it's hard for him to explain, because he still feels connected to his Venezuelan identity. "When I'm with my family, I'm completely different from the way I am at home with a friend."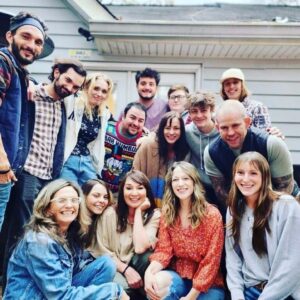 As much as he tries, he can't seem to put them together. Another factor is his sexuality. "I have a husband — I'm gay. But I never came out to my parents or friends in Venezuela because it was, let's say it was a different time. Venezuela was struggling with homophobia so I didn't come out." But coming to the US allowed him to become more of himself. "I was able to let that part of me out a little, to be more comfortable with myself. And I separated from the Jean Carlos part a little bit." However, it would change when his family came around; John the "gay guy would go back inside and Jean Carlos would come out because my parents would be there."
It improved when he came out to his family and got married. That part of his identity has meshed together, but his identity with his culture and country still remains a struggle. "Things were a little different, but still I'm struggling with those sides of identity and I'm still struggling every day." He says "it feels like two people inside you."
Community and Immigrants
When asked what Jean Carlos wanted to share with immigrants in the community, he had a powerful message. 
"One thing I want them to know from me is that it's okay to be afraid. It's okay to have doubts. It's okay to feel weak. It's okay to feel intimidated. It's okay to feel that you don't belong. Those things are okay. Allow yourself to have those feelings because what's coming afterward is gonna make you stronger. Just don't forget where you come from or where you came from. Just have your goal in mind. Keep moving forward every day. Do what's hard for you — if I can do it, anybody can. I say don't be afraid. Fight for what you want. If you have questions, always ask. There's no stupid question."
And when it comes to navigating immigration? "You're not sure how to do something? Always go to Hope Immigration. They have the best lawyer, and the best process to do this. Ask any question, get any help that you need. Because you can do it."
We thank Jean Carlos for his kind words about Hope Immigration and we hope that you all take his powerful words to heart.