Did You Know?
Did you know you can hire Hope Immigration to represent you from anywhere in the country? Or even anywhere in the world! We wanted to share how our work isn't constricted to one office and one city.
How Does It Work?
Due to the nature of immigration law, much of our work involves assisting in the filing of paperwork for whatever immigration status our clients want to achieve. This allows us to work with clients from all over. Geography does not pose many restrictions for the work we do for our clients. Some law firms even have their staff scattered all across the globe. Although this is possible for immigration firms, we love the fact that we have a home base in Atlanta. Our team is a small, tight-knit community in our Atlanta office, but we love the fact that we can serve clients from all over the country and the world.
Just last week, our attorney, Tracie Morgan, had consultations with prospective clients in three different states. However, in ten years that Hope Immigration has been in business, we have represented clients in 30 of the 50 United States, including Puerto Rico! 
Any Exceptions?
There are some instances where the client needs to be local for us to represent them. Typically, our clients have to be in Georgia for the attorney to attend their interviews, at least in person. However, Tracie has attended interviews in California, Texas, Alabama, Florida, North/South Carolina, Missouri, New Jersey, Kentucky, and Tennessee. 
Clients also need to hire a local attorney if they need a dependency order in state court for special immigrant juvenile status, as that is state-specific. Laws can vary drastically from state to state, so it is important to have someone eligible to practice in the state who is familiar with the local laws.
Who Can We Represent?
Over the ten years as a firm, we have represented clients from 127 different countries! To see the full list, check out the map below. We love having clients from all over the world and both learning about their cultures and helping them achieve their dreams.
Hope Immigration specializes in family- and humanitarian-based immigration cases. This means we do not handle employment- or court-based cases. If you are someone who is hoping to immigrate to the United States through a connection with a family member or through humanitarian means, we are happy to assist! As much as we'd love to help everyone who dreams of coming to the US, there are certain eligibility requirements we have to screen for. There must be some tie to the United States to come, be it a parent or child who is a Lawful Permanent Resident or a US Citizen, or through humanitarian means, such as asylum. You can read more about the services we provide here.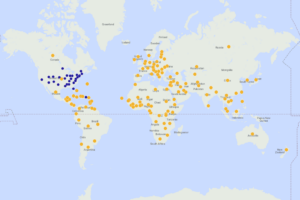 Click here for an interactive version of the map!